The team at Arthur Products Co. recently exhibited at the Water & Wastewater Equipment, Treatment & Transport (WWETT) Show in Indianapolis – the premier event for municipalities, plumbers, portable sanitation professionals, septic contractors, sewer contractors and wastewater professionals in America.

We'd like to thank everyone that stopped by our booth for their interest in our great company and top-quality products. We look forward to working with all of you in the very near future. Here's a recap of what people were most interested in learning about when they met us at the show.
EV Deicer/Degreaser Jet Nozzle for Sewers
With three angled forward and six rear facing jets, the EV blasts through corroded pipes and tubes like nobody's business. It features a long tapered nose that makes it the perfect jet spray nozzle for clearing ice and grease from sewers. When you choose the EV, we'll also drill up to nine orifices at no cost to you.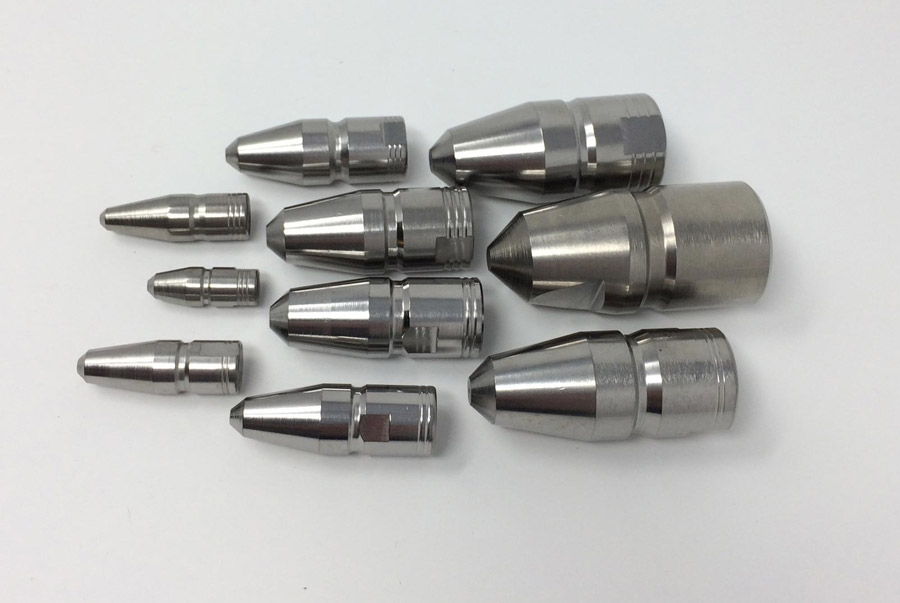 Cnt-r-KUT™ Generation 1 and 2 Sewer Drain Cleaning Nozzles
Our Cnt-r-KUT™ Generation 1 nozzles feature a stainless steel body and flexible guide vanes that can be trimmed for your custom application. The vanes are mechanically attached to the body for easy replacement.
Our Cnt-r-KUT Generation 2 nozzles also feature a stainless steel body that is integrated with the sewer hose, eliminating the lengthy barred section at the hose connection point. This redesign, along with flexible guide vanes, resulted in a centered nozzle assembly that has an outstanding bend radius. Take a look at a few examples of each product:
Cnt-r-KUT™ Generation 1 Nozzles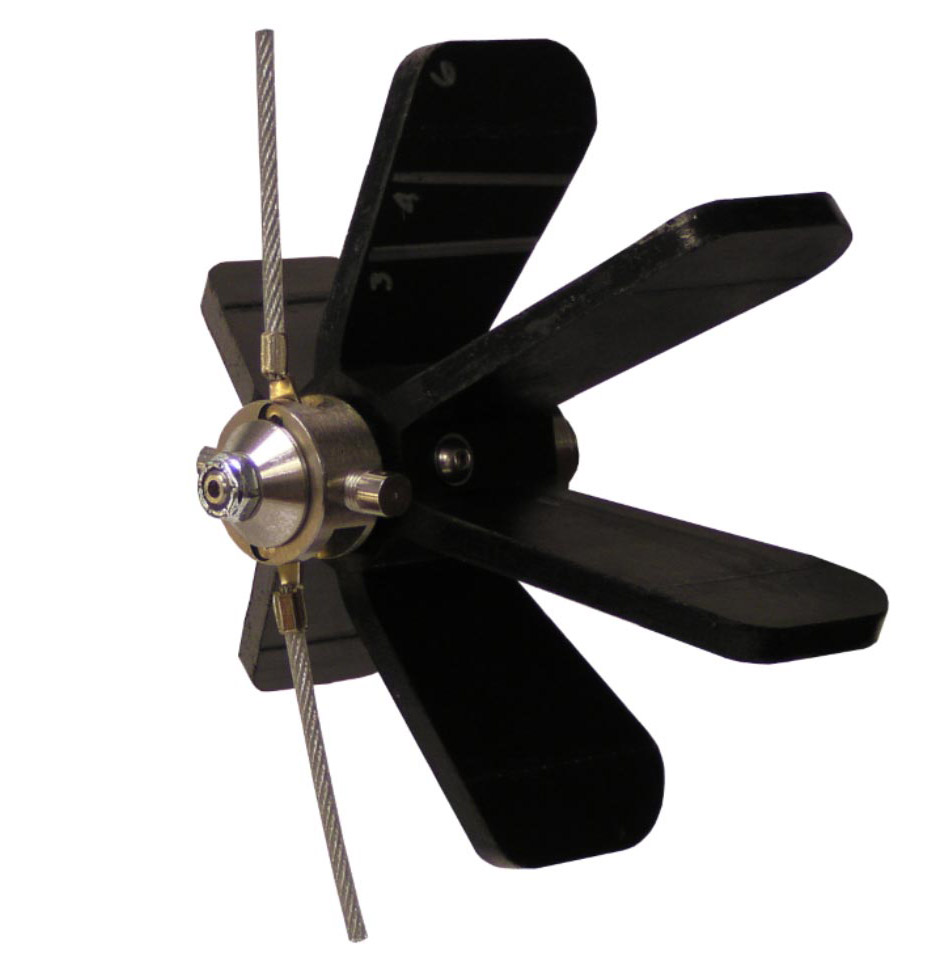 Cnt-r-KUT™ ELITE KIT
These nozzles feature a flexible centering device with a chain and cable cutter rotor, and they were specially designed to allow the operator to get into tight places where other water driven mechanical cutting nozzles fear to go.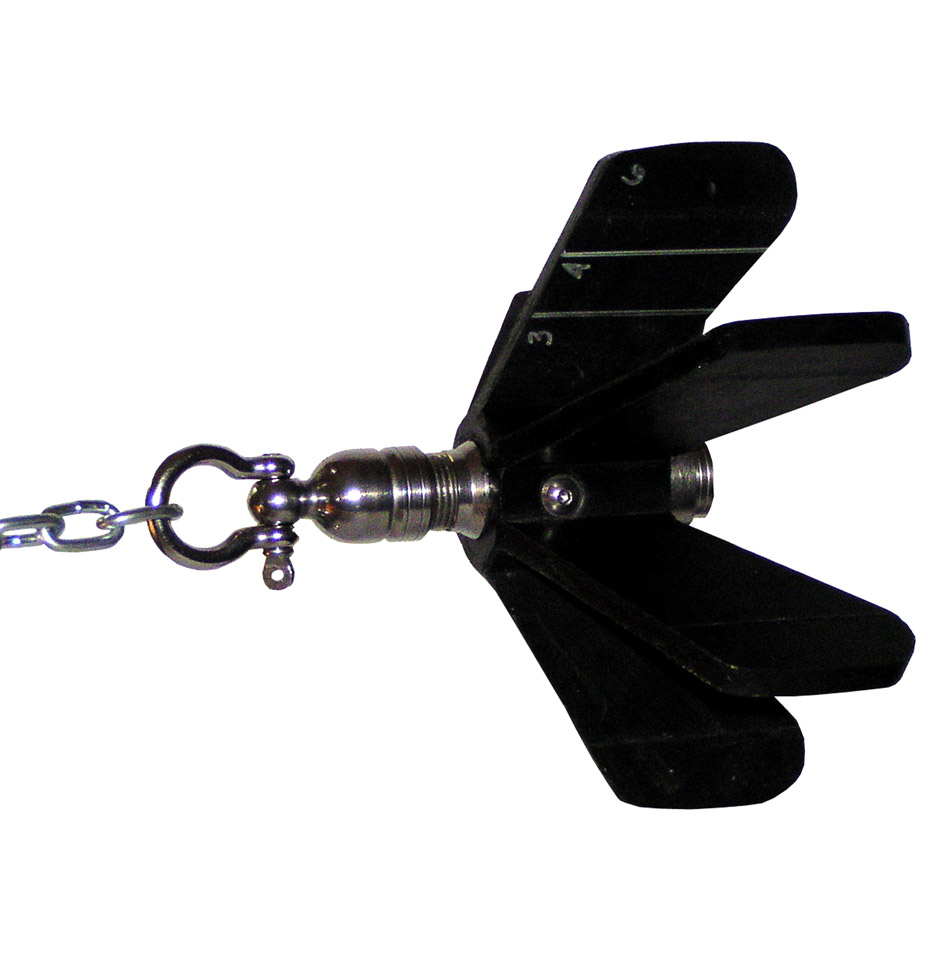 Cnt-r-KUT™ TOW HOOK
This hard-working towing nozzle can be pulled through a pipe and blast 100 percent of the water pressure forward, laterally or to the rear. It is made from the same aerospace elastomer as all of our other Cnt-r-KUT models, and it's flexible enough to conform to damaged and deformed lines.
Cnt-r-KUT™ Generation 2 Nozzles for Sewers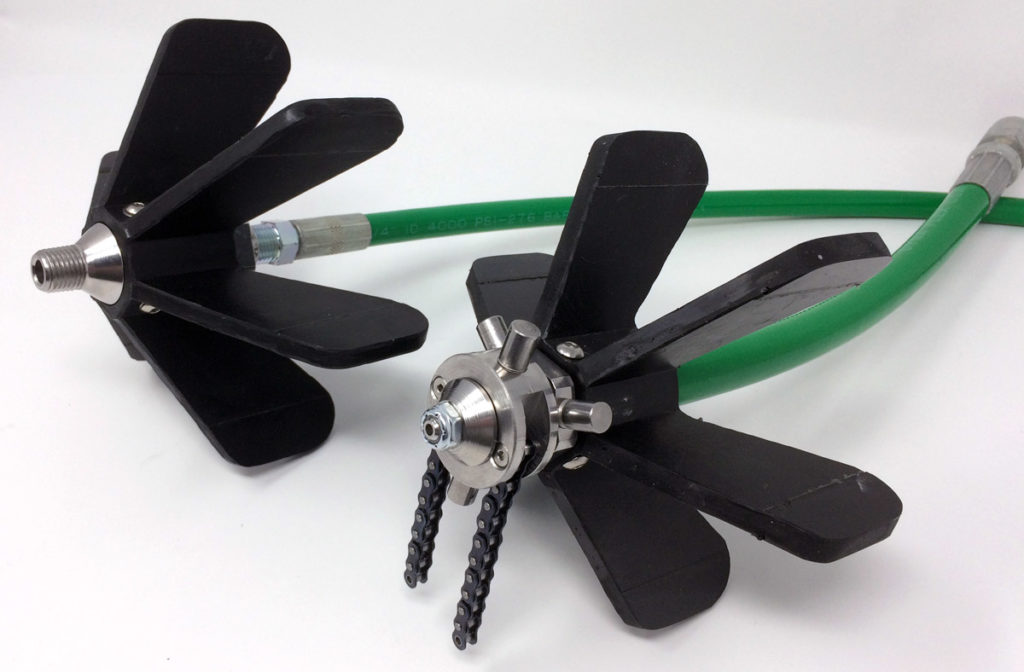 Cnt-r-KUT™ G2 EMAX2
This jet nozzle blasts through roots and other obstructions with ease, then jets away the debris. It is a cutter nozzle that uses a rotating head that features interchangeable chains or cables.
Cnt-r-KUT™ G2 BMAX2
This is the perfect starter kit for operators new to the industry. It includes three jet nozzles to penetrate blockages and flush loose debris out of sewer pipes. One nozzle penetrates, one flushes and the other acts as a deicer/degreaser.
Other Arthur Products Co. Highlights from the Show
Here are a few other facts about our company that people at the show were excited to learn about.
We make all of our products in America, which eliminates concerns about disruptions to the global supply chain.
From raw metal bars to the finished product, we manufacture all of our nozzles from start to finish.
We manufacture centering devices that are flexible enough to conform to damaged and deformed sewer lines. These devices can easily be fitted in the field to fit virtually any line from 3" to 6" in diameter.
We offer highly durable jet nozzle racks that can help you keep track of your nozzle collection.
Once again, we'd like to thank everyone that stopped by our booth at the WWETT show. We'll be reaching out, and we encourage everyone to give us a call at (330) 725-4905 to learn more about what we can do for you.