"A customer, new to the industry, was opening the plastic box holding his brand-new jetting nozzle kit from us and accidentally dropped them down a manhole." That's when Richard Rauckhorst, president of Arthur Products, explaining the inspiration behind the company's new Six Pack on a Rack offering. "The customer called us up and said he needed replacement nozzles, and asked whether we could make him something he could attach to his jetter so he wouldn't do this again."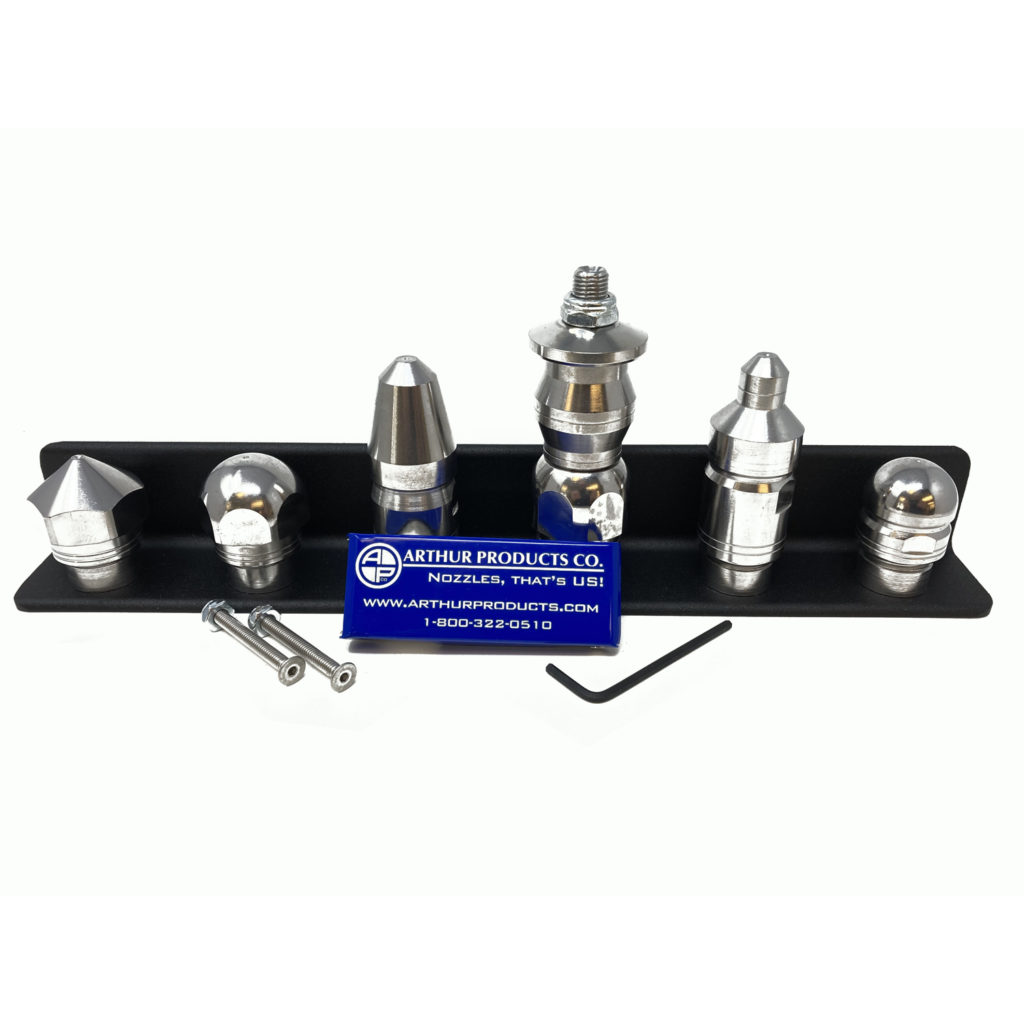 The Six Pack on a Rack is Born
The Six Pack on a Rack is a handy combination of six popular jetting nozzles with a rack that attaches directly to the user's jetter or power washer. The convenient and durable organizer rack keeps all of the nozzles needed to complete a job within arm's reach while virtually eliminating the possibility of any ending up down a nearby manhole.
Used to clear blocked sewer lines and other pipes, jetting nozzles by Arthur Products are all custom drilled to match the flow and pressure characteristics of each customer's jetter or power washer. The Six Pack on a Rack features the following nozzles, mounting hardware, and a jet cleaner tool:
Penetrator nozzle used to dislodge blockages
Flusher nozzle that flushes loose debris out of the pipe
Cornering nozzle that navigates around tight bends in the pipe
De-icer/de-greaser nozzle clears pipes heavily blocked by grease, hard soap, or ice
Impactor nozzle moves sand, grit, and light scale which may have accumulated within the sewer line
Px Revolver G3 nozzle provides full 360-degree cleaning with only one moving part.
High Quality, Customized to Your Specifications
"Those are our six most popular nozzles, so that's why they're in the standard kit," said Richard, "But we'll supply whatever the customer wants. If they choose different styles of nozzles, we'll be more than happy to supply them with a six-pack of their configuration."
Arthur Products has the expertise to custom-manufacture jet nozzles, vent tubes, and accessories to each customer's exacting specifications. Contact us to talk about your specific nozzle needs, or browse our jet nozzles and kits.