Little did Bill Rager realize when he walked into Arthur Products that he was about to discover the answer to a lot of his clogged drain problems. Bill, a local Medina, OH Plumber, explains it this way: "I do plumbing, heating, and cooling work, and one day Arthur Products called us up for service. After I finished the job, I noticed Arthur Products sold Alpha Kits, which I had heard about but didn't know where to buy."
Extending the Capabilities of Pressure Washer Systems
The Arthur Products Alpha Kit™ is configured for low-flow, low-pressure systems. Available in 1/8″ FNPT and 1/4″ FNPT versions, the jets are drilled to the end-user's exact pressure and flow specifications. Designed for use by do-it-yourself property owners who have low-pressure systems, the kits are highly versatile.
Bill says he bought the Alpha Kit for his personal use, and he and his friends and family use it all the time. "I've used the Alpha kit on tons of different things. My brother's boss owns a restaurant, and he borrowed it to clean a drain that would require service every three to six months with a traditional cable snake. After he cleaned it using the Alpha Kit, they could go a year or more without cleaning that drain."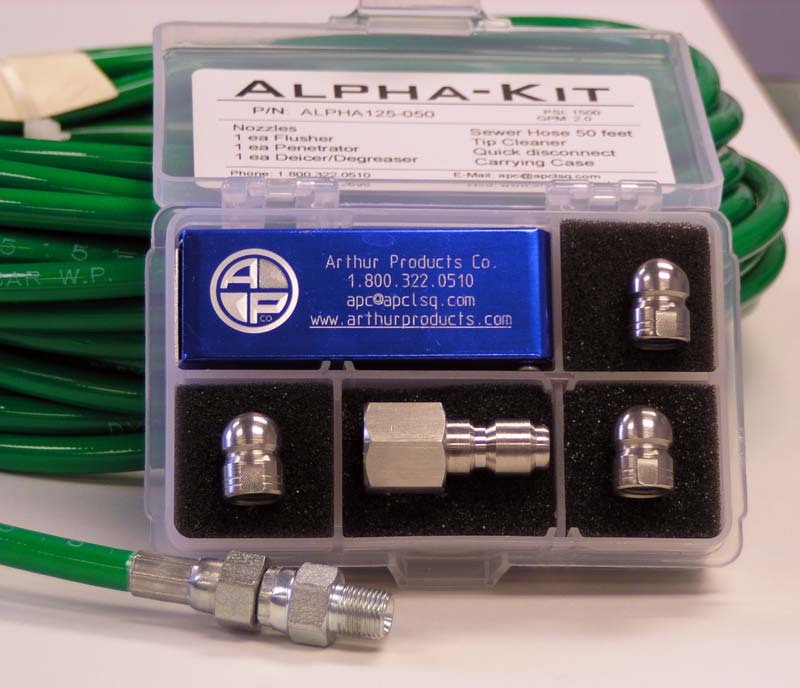 Quickly Pays for Itself
Bill's Alpha Kit quickly paid for itself. "My nephew was running a farm and they had somebody out to try to clear a frozen drain in the middle of winter. They tried to use a cable but that didn't work. I had the drain open and flowing within an hour using the Alpha Kit." Because the Alpha Kit jets spray water in the pipe, it can melt the ice a cable machine just can't grind its way through.
Bill's own home has benefited from the Alpha Kit as well. "My downspouts are such a nightmare to clean. I'd spend an entire Saturday cleaning them. With the Alpha Kit, the job takes a couple of hours." And while a cable can potentially cut through plastic pipes or crack tile pipes, the Alpha Kit is far less destructive because it's simply powered by high-pressure water.
Optimized For Your Pressure Washer
"What I like about Arthur Products is that my kit is designed specifically for the pressure washer system I have. Arthur Products wanted to know what kind of pressure I was going to be using, and what kind of flow of water my washer had. They optimized the kit for my setup."
Each Alpha kit includes:
1 flusher nozzle
1 penetrator nozzle
1 deicer/degreaser nozzle
1 sewer hose (50 feet)
1 tip cleaner
1 quick disconnect coupling
1 carrying case
People searching for professional-level pipe clearing capabilities using accessible low-pressure systems can purchase their own Alpha Kit by contacting Arthur Products.