Like a drill to a carpenter and a wrench to a mechanic, jet spray nozzles are indispensable tools for drain and sewer cleaning contractors. At Arthur Products Co., we manufacture a wide variety of jet spray nozzles so you'll always have the right tool for the job. We make custom Tier One and Tier Two nozzles for every application in the sewer cleaning industry. The majority of our Tier One jet spray nozzles are custom drilled to customers specifications and are designed to operate at either 10K or 15K PSI. For jobs that require additional water pressure, we offer a 20K PSI option. Our Tier Two jet spray nozzles can be customized to deliver high pressure water in multiple directions.
Tier One Jet Spray Nozzles
With more than 60 years of experience, we're experts at manufacturing custom Tier One jet spray nozzles for the most demanding applications. Take a look at a few of our nozzles that operate at 10K and 15K PSI: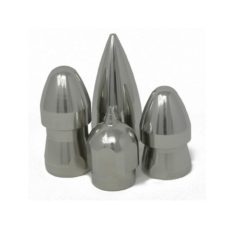 Contractor Series (CS)
Our CS jet spray nozzles are engineered for extended runs and long life. Their robust geometry is designed to withstand the harshest operating conditions. When you choose the CS, we'll custom drill up to 12 orifices at no additional charge.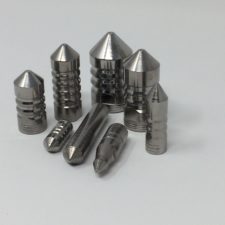 Multi-Groove (MG)
When you need horsepower to clear heavily fouled pipes and tubes, count on the MG! It's both a penetrator and a flusher. The MG's tube cleaning nozzle has three grooves that create water patterns that polish and flush. When you choose the MG, we'll also drill up to 12 orifices for free.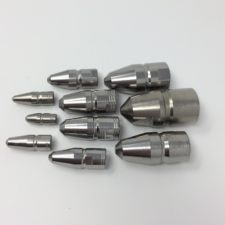 Deicer/Degreaser (EV)
The EV blasts through corroded pipes and tubes like nobody's business. With its long tapered nose, it's the perfect jet spray nozzle for clearing ice and grease from sewers. When you choose the EV, we'll also drill up to nine orifices at no cost to you.
Eg-A-Nator (EG)
Our EG jet spray nozzles are incredibly easy to install and use. These nozzles feature one forward jet and six thrusting/flushing jets. The EG is highly flexible, and can be customized to meet your specific needs.
Tier Two Jet Spray Nozzles
Our Tier Two (T2) jet spray nozzles feature multiple threaded ports with inserts to customize your water pressure and flow. We offer multiple inserts to give you the flexibility you need to tackle any job.
Shop Online
While we specialize in manufacturing custom jet spray nozzles, we now offer a few standard nozzle kits, accessories and centering devices that can be purchased online. Shop today!
When you need high-quality, precision engineered jet spray nozzles, simply give us a call at (330) 725-4905 or contact us.