A successful debris clearing nozzle boils down to engineering and design. There are dozens of pipe cleaning nozzle manufacturers and hundreds of physical shapes and choices. What sets apart the nozzles from Arthur Products is performance, lifespan and quality manufacturing. There are two basic nozzle kits available from Arthur Products and the differences are slight, because each is equipped with the same quality and care we put into all of our manufacturing efforts.
Either of the two kits is designed to supply the right mix or variety of jet nozzles that will help clear obstructions in 90% of the situations a plumbing or sewer professional encounters on a daily basis. The difference is in the achievable travel distance.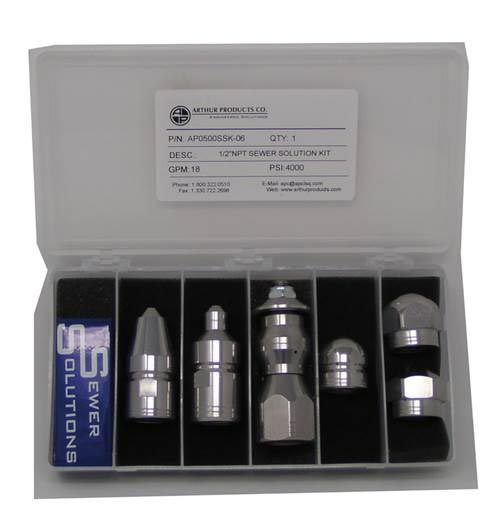 Two Types of Kits
Arthur Products offers two types or classes of kits; a standard kit with a travel distance of 100-150 feet, and a thruster version, designed to provide the same jetting patterns required to clean pipelines, but at a greater distance than a conventional nozzle kit.
Conventional or thruster kits allow the professional to choose the pipe cleaning nozzles based on the length of hose needed to complete a job. The thruster kit, one of the unique product offerings that differentiates Arthur Products, employs specially designed jetting nozzles, jet angles and advanced orifice calculations to maintain the same flow rate and pressure for cleaning pipelines as the standard kit yet at a longer distance.
Performance Linked to Pressure
All of the pipe cleaning nozzles from Arthur Products are designed to reach a minimum, baseline pressure of 10,000 PSI. If an operator requires a higher baseline pressure, we offer capabilities to design for 15,000, 20,000, 40,000 and custom operating pressures.
The baseline and operational PSI differ, depending on the nozzle. The baseline PSI is an important product feature that critically impacts the jetter nozzle performance, but it is one feature that purchasers can fail to check. Other manufacturers might sell nozzles with a baseline of just half or 5,000 PSI and this will have a negative impact on the outcome and the time it takes to complete a job.
Nozzle Varieties
The most popular kit Arthur provides has six nozzles that perform six different functions.
Pipe cleaning nozzles or jetter nozzles included in the six-piece kit:
Penetrator – dislodges blockages
Flusher – flushes loose debris
Cornering – navigates around P-Traps and tight bends
Polisher – (Also known as a spin jet, Px Revolver or Rotary) polishes and maximizes line recovery
De-Icer/De-Greaser – removes stubborn clogs formed by grease, hard soap or even ice
Impactor – moves sand, grit and light scale accumulated in the line.
Distinct Shapes for Easy Identification
As another engineering feature, each style of jetter nozzle supplied in the six-piece kit is deliberately fashioned into a different shape, depending on its function or purpose. Other manufacturers make each nozzle in their kits the same shape, leaving professionals, who might be working in a dark space, unable to discern the difference between them without great difficulty.
The distinct shapes and geometry of the jetter nozzles manufactured by Arthur Products allows the operator to select the right nozzle for the obstruction in the pipes, simply by feeling the shape of the nozzle.
In addition to the six-piece kits, Arthur Products does offer a five-piece, a four-piece and three-piece nozzle kit. The smaller kits provide an economical starter investment for plumbers or sewer professionals just beginning their career.
Nozzle Rack
To help streamline professional sewer and pipe clearing operations, Arthur Products manufactures custom designed and manufactured nozzle racks that mount onto either the jetter or the truck. The nozzle rack helps keep the nozzles accessible, organized and easy to find, instead of loose in the vehicle.
Quality Guaranteed
Every nozzle is manufactured from heat treated stainless steel for durability and long-lasting service life. Each kit is organized in a self-contained case with a tip cleaner.
Features of the Arthur Products sewer jet nozzle kits:
Fabricated from heat-treated stainless steel for durability
Each nozzle is custom drilled
Nozzles fit a wide range of female thread diameters (1/8-1.0 inch)
Conventional (standard) and thruster versions allows for broader range of application
Different nozzle shapes allow for easy identification
Diverse in geometry and performance
Manufactured in our Ohio facility for made-in-America quality
Well stocked with raw materials to avoid supply chain issues
Contact us to get a custom drilled sewer jetting nozzles kit for your business or plumbing operation. Custom manufactured high-pressure pipe cleaning nozzles have been our specialty for more than 40 years.